E-mail me if you have any questions. Happy artworking!

Listed here are the materials I work with most often. All of these art materials are can be easily obtained from any art store.
My favorite art supply store is Blick, but I do occasionally use Cheap Joe's Art Stuff, and my local Utrecht Art Supply store.
1. Artist's masking tape (any brand is good as long as it's acid-
free). Used for creating borders and taping the drawing to a drawing board.
2. Golden fluid acrylics. Used for highlighting and outlining drawings and paintings.
3. Blick plastic palette, used for the above.
4. Pentel mechanical pencil refills in 0.5mm and 0.9mm.
5. Design kneaded eraser. Leaves no residue and can be bent and twisted
into any shape you desire.
6. Pentel Flexfit mechanical pencil.
7. General charcoal pencil.
8. Design graphite pencils in grades from 2H to 6B.
9. Micron Pigma ink pens, 0.25mm and 0.45mm. Used for outlines and occasional sketching.
10. General white charcoal pencil, used for highlights on tinted paper.
11. Copic multiliner pens in 0.1mm and 0.5mm, used for outlines.
1. SKETCHING & DRAWING TOOLS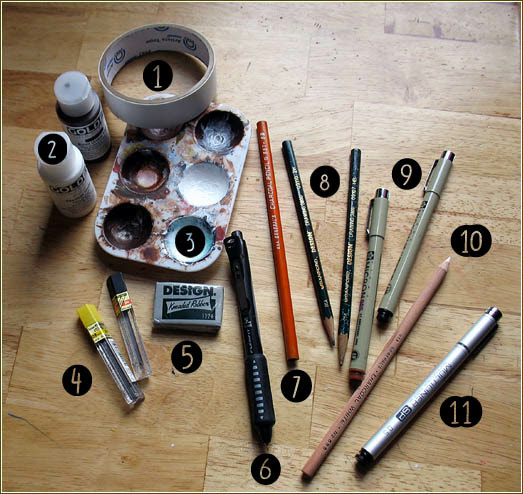 1. Karat watercolor pencils. Used occasionally for laying down basic color scheme in mixed media drawings.
2. My big-ass box of pencils. These include a variety of Prismacolor soft leads, Prang medium-leads, and Berol Verithin hard leads.
3. Faber-Castell Polychromos colored pencils. The best, IMHO.
NOT PICTURED: Koh-I-Noor pencil lengthener. There's a point at which a pencil becomes too short to work with comfortably, and this is where a pencil lengthener really comes in handy.
An electric pencil sharpener also makes an artist's life easier. I prefer battery powered Staples Slimline.

1. Yarka professional watercolor set. I've loved these since I was a kid. Used for casual painting and for backgrounds. They come in different sets (this one was a 24-color), but pans are sold separately, so you can customize your own palette.
2. Schmincke Horadam 24-color pan set. These are on the expensive side, but so completely worth it. You won't find better watercolors anywhere on the planet. I use these for my figures when I want them to really stand out of the background.
3. Arches art board, cold press. The best surface for watercolor painting I've found so far. It's thick, and has a nice cottony feel that almost feels like canvas.
4. Assorted brushes, sizes 0 to 6. I prefer Blick's Masterstroke series, but I've used other brands too, such as Winsor & Newton, Robert Simmons, and Trekell. As long as it's pure red sable, most will do the job.
5. Masking tape (see above).
6. Plastic palette (see above).
NOT PICTURED: 7-well porcelain flower palette.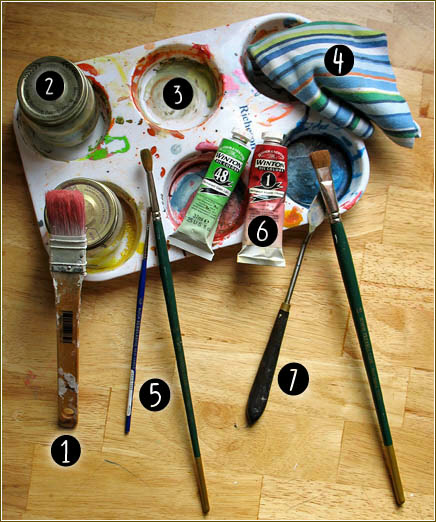 1. A large Loews-Cornell hog hair brush. Used for priming the painting surface.
2. A small jar to hold solvent (old baby food jars are perfect for this).
3. A large plastic palette. Some say a white palette isn't ideal, but I've never found it to be a problem. I've also used aluminum, plexiglass, wooden, and porcelain palettes. All are good, and in the end a matter of personal preference. Just make sure to clean your palette thoroughly after each and every painting session.
4. A soft cotton cloth for wiping brushes.
5. Assorted brushes, sizes 0 to 6. Same deal as as with watercolor.
6. Winsor & Newton Winton oils.
7. A palette knife (any brand would do).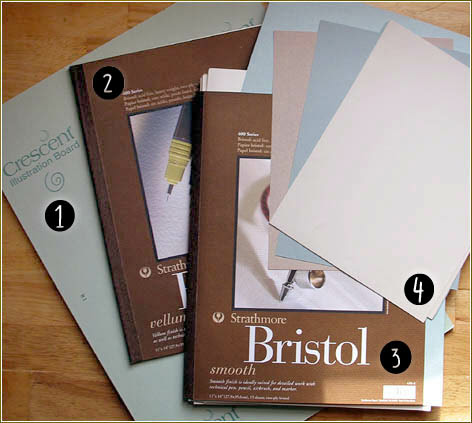 1. Crescent #1 cold press, 40-ply, extra heavyweight illustration board. Best for oil paintings, but not always easy to find. Try Blick.
2. Strathmore Bristol Vellum drawing pad. A thick paper with a slight texture. Used for mixed media drawings and some graphite drawings.
3. Strathmore Bristol Smooth drawing pad. A smooth version of the above. Used for graphite drawings.
4. Canson Mi-Teintes assorted tinted paper. Nice papers with vellum-like texture. You can use them for just about anything. I like them for colored pencils, charcoal, and occasional sketching.
NOT PICTURED:
- Strathmore Artagain paper in assorted colors. Used for drawing and sketching.
- Strathmore 400 series toned tan journal. Used for sketching.
- Moleskine large classic sketchbook. Used as a personal sketchbook/creative journal.
- Arches art board, cold-press, see above. Used for watercolor paintings.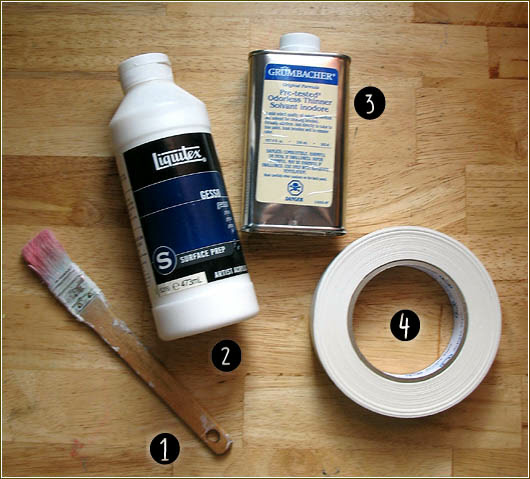 1. A large Loews-Cornell hog hair brush. Used for priming the painting
surface. Good for texture.
2. Utrecht professional gesso for oil painting. I apply 3 light coats, each coat applied in a different direction (horizontal, vertical, and diagonal). This adds texture, and helps the paint to cling better. So does underpainting in acrylic.
3. Grumbacher odorless oil paint thinner. I've tried everything from linseed oil to traditional turpentine, and this works best for me. Quick drying, non-stinky.
4. Artist masking tape... Yet again. Seriously. Don't leave home without it.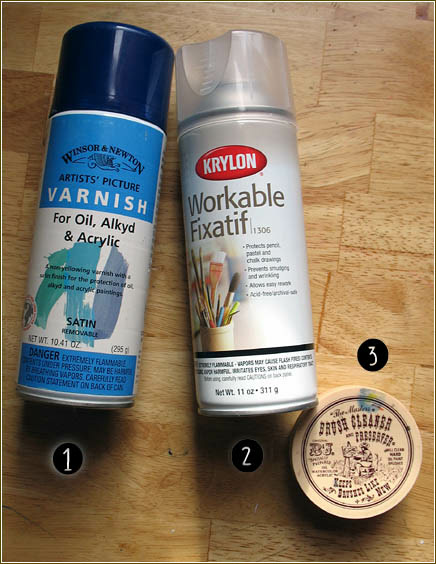 1. Winsor & Newton Damar Varnish. Used for oil paintings. Wait at least a year after you complete the painting to apply this. You want to give the paint a chance to dry completely.
2. Krylon Workable Fixatif. Used for drawings and mixed media work.
3. B&J Original Brush Cleaner And Preserver. You want your brushes to last. Those suckers are expensive, so take good care of them.
NOT PICTURED: Lascaux Fine Art Fixative. Pricey but well worth it. I used to only apply it to my watercolor inkwork before coloring, but it's now become my favorite fixative for just about anything.